Kerala is more popular the world over for its beautiful beaches, bewitching backwaters, silky sand, sensuous sea and wilderness of the wildlife. But there is more to Kerala than this. Far off in the heights of the Western Ghats, Kerala has number of hill stations less ventured and explored.
The hill stations of Kerala are the most perfect choice if you want to getaway from the city noises, deadlines, stress, tension and crowd. Decorated with meandering roads, ravishing rivulets, splendid springs and wondrous waterfalls, these hill stations are really different from other popular hill stations of India.
The hill stations of kerala are quite conducive to tourism throughout the year. The fogging during the monsoon lasting from June to August may hamper free travel and bring down outdoor visibility. Enjoy the inhalation of the bracing mountain air and the profusion of flowers in bloom.
Some of the top hill stations in Kerala are given below :
Munnar Hill Stations
Peermade Hill Station
Ponmundi Hill Station
Idukki Hill Station
---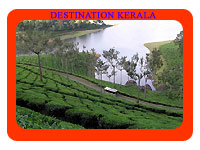 Munnar Hill Stations
Munnar hills is situated at the confluence of three mountain streams - Mudrapuzha, Nallathani & Kundala. The hills are situated at an altitude of 5000 to 8000 Ft above sea level. This beautiful hill station was once the summer resort of the British Government in South India. Sprawling Tea plantations, picture book towns, winding lanes, and holiday facilities make this a popular resort town in India. Munnar also has the highest peak in South India known as Anamudi with a height of 2695 m. Anamudi is an ideal spot for trekking and other adventure activities. The high ranges of Munnar were earlier known as Kannan Devan Hills,named after a certain Kannan Devan,who had been land lord in the Anchanad Valley on the eastern side of the district. The main cultivation crops in Munnar are Tea and Coffee. Among the exotic flora that are found in the forests and grasslands in Munar is the Neelakurinji. This flower which bathes the hills in the blue every twelve years, will bloom next in 2006 AD.
---
Peermade Hill Stations
Peermade is a beautiful hill station in Idukki district in Kerala. This exotic hill station 0is situated at 915 m above sea level. Peermade is on the way to the famous Periyar Wildlife Sanctuary, which is home to a variety of wildlife species. Peermade has a pleasant and was once the summer retreat of the Maharajas of Travancore. Peermade is a cool hill resort with a lot to see and explore. In Peermade one can find sprawling tea, cardamom, coffee, rubber and eucalyptus plantations side by side with natural grasslands and pine forests which makes this hill station more beautiful. One can visit various tea estates and factories in and around Peermade town. The famous tea factories plantations are Located in Pattumala. The Velamkanni Matha Church and the flower garden are the other major attractions at Pattumala. The beautiful waterfall at Peermade is another major attraction. Meloram, Nallathanni, Panchalimedu and Valanjamkanam are amongst the major waterfalls at Peermade. Peermade is also an important place for adventure loving people, as there are many trekking trails which add to the pristine beauty of Peermade. Peeru Hills, Kalthotti, Vagamon along with Karandakapara Hills, Parunthupara and Memala offer excellent trekking routess. Cycling and horse riding are the other adventure activities popular at Peermade. The neares town to Peermade is Kuttikanam one have terrific trekking opportunities.
Accomodations are available at the Government Guest House of Peermade that offers a comfortable stay with all major facilities and amenities. There are also other private hotels & guest houses are also available at Peermade. Peerumade is well connected to the major cities by road. The nearest railway stations in at Kottayam which is 85 kms away.